Deutsche Bahn: Train Tickets, Schedules, and Routes
Best Price
Real time comparison
Easy Booking
Direct access to over 600 train, bus and flight partners
Customer Satisfaction
More than 20 million users from over 120 countries

Facilities

Power Outlet

Wifi

Refreshments

Media

AC

WC

Seat Reservation

Luggage

Allows Bicycle
Facilities
The services offered on Deutsche Bahn trains depend on the type of train. While regional Deutsche Bahn trains only offer toilets on board, Intercity (IC) trains usually have a restaurant on board that offers drinks and light meals. Intercity Express (or ICE) Trains offer a larger selection of meals. Deutsche Bahn ICE trains feature both 1st and 2nd class seats and quiet compartments for noiseless travel.
More
Deutsche Bahn – Special Offers
DB is offering the "Super Sparpreis Partner" (Super saver fare) tickets for 44,90 € as long as the contingent lasts! It is a single journey ticket for two people, available for journeys on ICE, IC or IC-Bus. Booking time ends on 15. April 2018, although the travel period is until 11. October 2018.
The cheap prices with Deutsche Bahn are back. Tickets from €19.90 apply to single train journeys throughout Germany and can be booked up to six months in advance - for travel until 9th June 2018.
Summary of Tickets
For train travel throughout Germany from € 19.90 (1st class from € 29.90, seat reservation included)
Valid for long-distance journeys for ICE, IC/EC and IC bus travel
Valid for travel until 9th June 2018
Children under 14 accompanied by parents/gaurdians can travel for free
Bahncard 25 or Bahncard 50 holders receive a further 25% discount
About Deutsche Bahn
Deutsche Bahn (or DB) is the main train company in Germany. As a company, Deutsche Bahn is the result of the merger of the Deutsche Bahn (German Federal Railroad) and the German Reichsbahn (GDR). A special feature of Deutsche Bahn is its versatile range of savings, discount cards, and travel deals. For example, Deutsche Bahn's Bahncard can be used to receive 25%, 50%, or even 100% discount for 1st and 2nd class tickets in some situations. The Bahncard is particularly useful for frequent travelers and commuters who spend several hours per week on a Deutsche Bahn trains.
Book your Deutsche Bahn Train Ticket with GoEuro
The first step of traveling with Deutsche Bahn is by booking your train ticket. Where should you book your ticket, online on the company's website or directly at the train station in Germany? How cheap are Deutsche Bahn train tickets?
Online booking: You can book your e-ticket online directly on GoEuro or the website of the train company. To buy your Deutsche Bahn ticket in English, and to compare over 300 train and bus companies on the GoEuro app.


Purchase tickets at the train station: You can also buy your ticket directly at one of Germany's many train stations. You can buy your ticket at one of the station's sales offices, in advance or directly on the same day. In general, it is more advantageous to buy your ticket in advance.


Printing e-tickets at the station: Some electronic tickets must be printed on the automatic terminals, be careful when booking online. With GoEuro, you will not need to print your e-ticket and you can travel by train directly with your phone. To collect your tickets in the automatic stations, you must bring your reservation code received by mail. You can also buy your tickets directly at the stations at the automatic stations until 5 minutes before the departure of the train. Payment is made by cash or credit card.
Deutsche Bahn Train Types
Deutsche Bahn InterCity Express (ICE) Trains
The abbreviation "ICE" stands for InterCity Express and refers to Deutsche Bahn's high-speed train. This type of train constitutes the highest category of DB's long-distance trains. In essence, the ICE is a further development of the IC called the intercity train. Just like the IC, the ICE is also recognizable by its color. The trains are in white and have a continuous red strip on the side. The development and introduction of the InterCity Express on German rails were a reaction to high-speed trains in other countries such as the TGV in France and Japan's Shinkansen high-speed train in the 1980s. In 1985 the first ICE ran between Gütersloh and Hamm. Today, the ICE forms one of the main means of transport in the long-distance transport of Deutsche Bahn. Due to the high speeds, the trains usually need special routes that are designed for such loads. On regular rails, the trains also operate, but not with the achievable top speed.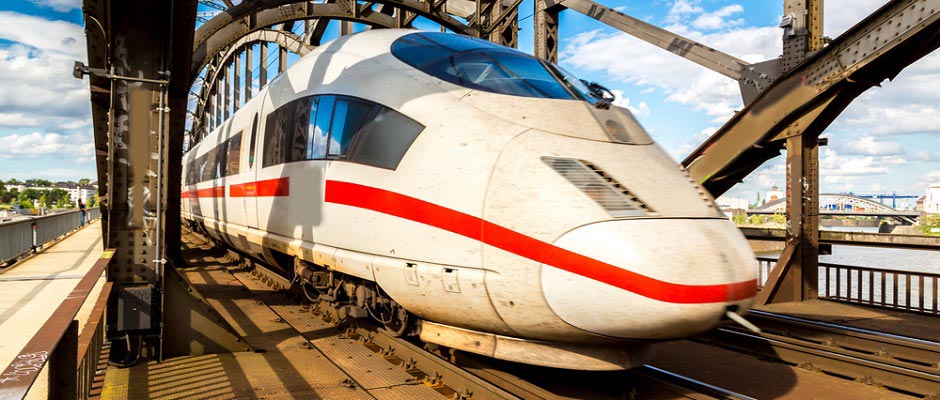 On most routes between large cities in Germany there are ICE trains, which are characterized by short travel time, high speeds and few intermediate stops. Many ICE trains, for example, operate trains to Berlin, Hamburg, Munich, Frankfurt, and Hanover. Even smaller stations of medium-sized cities with a central location are approached by ICEs. The train timetable provides information on ticket prices, travel time, class availability and seat reservation. Whether savings are available for the ICE connection must be checked individually for the desired train connection. The ICEs are divided into the 1st and 2nd class, As well as resting areas and an on-site restaurant. Seat reservations are free for the purchase of a ticket for the first class.
Popular ICE Train Routes
Most ICE trains run between the major cities in Germany. The routes between Berlin and Munich as well as to Hamburg, Frankfurt or Cologne are particularly popular. Some ICE train routes also extend to neighboring countries including Austria, France, Switzerland, and the Netherlands.
Deutsche Bahn InterCity (IC) Trains
Deutsche Bahn IC or InterCity trains operate between large and medium-sized cities in Germany. Some IC trains also travel to small cities which are located in an important location. If transfers are necessary on the route, you can take the regular regional Deutsche Bahn trains to InterCity trains. Traveling on a Deutsche Bahn IC train is usually cheaper than traveling on the ICE train; however, IC trains also take longer (sometimes significantly longer) to arrive at the destination. Passengers can choose between 1st and 2nd class on InterCity trains. A dining car is also usually available on Deutsche Bahn's IC trains. EuroCity trains (or EC trains) are an international long-distance train running between major European cities that operate at comparable speeds to DB's IC trains.
The abbreviation "IC" stands for InterCity and is a common name around the world for a particular type of train. In general, an InterCity train connects important stations quickly. In this case, such a train accordingly only stops at important locations or selected stations. In most cases, these IC stations are located in larger cities and offer transfers including other IC train routes or regional trains.
The concept of a supra-regional express train, which connects only large cities, is by no means new. At an early stage in the development of train networks, there were forms of express trains which generally functioned as a modern InterCity train. Today, Deutsche Bahn's regional trains serve smaller towns and cities in Germany. Deutsche Bahn's introduction of the term "InterCity" and the system dates back to the beginning of the 1970s when the "fast train" (F-Zug) were the fastest type of train. Deutsche Bahn's IC network grew steadily until the 1990s and was only slightly reduced because of the introduction of Deutsche Bahn's InterCity Express or ICE train.
Deutsche Bahn Regional Express (RE) and Regional (RB) Trains
Regional Express (RE) and Regional (RB) are Deutsche Bahn's regional trains which usually operate between locations inside of one of Germany's federal states. Regional trains usually visit small train stations approximately twice per hour during the day. Deutsche Bahn's Regional Express is a local express train that only stops in larger towns and stations within one of Germany's federal states. Alternatively, DB's regional trains stop at almost every train station on a route within the region. From 2017 onwards, Deutsche Bahn will offer more seating reservations for Regional Express trains and Regional trains. Many Regional Express (RE) and Regional (RB) trains are double-decker trains, so the passengers, who are often commuters or business travelers, have more seats available. The timetables for DB's Regional trains can be taken from the DB's regular timetable or online timetable.
Where can I find more Information about my Deutsche Bahn Ticket?
You can access DB's railway information by various means– for online bookings or bookings via the DB App, the train information is available directly on the ticket. Whoever buys his ticket at the station via a DB ticket machine also has the opportunity to look at the station signs or the suspended timetables above the track.
Deutsche Bahn Holiday Timetables
Usually, the timetables of DB do not change because of holidays. However, this should be checked before traveling using DB's online timetable or GoEuro. Cross-country tickets are valid during holidays from as early as 12 a.m. Deutsche Bahn also often provides special timetables and additional trains to account for increased passenger traffic during football games. These alternative timetables will also be updated in the current DB online timetable.
Deutsche Bahn Timetables on Christmas Day and New Year's
For the Christmas holidays and New Year's Eve the trains run according to the regular schedule. However, the demand at these times and generally in December is very high, so travelers should book with the DB in time. Seat reservation is highly recommended. At this time, DB's winter timetable also comes into effect, so trains and departures should also be checked in time in the new timetables.
Live Train Timetable Information on the DB App
Deutsche Bahn offers a free app, which allows you to check current train timetables even while you are traveling. DB timetables can also be downloaded via PDF files so that they are always available even without Internet access. Deutsche Bahn's Twitter account provides live information on construction sites and delays. Alternatively, in the GoEuro App, you find live information on all DB trains, the timetables of long-distance buses, as well as information on flights.
Live Information about Deutsche Bahn
Has my train been delayed? Can a train be canceled? Are new Deutsche Bahn train lines being built? Are there any changes to the timetable or anything new at Deutsche Bahn? Important information can always be found on Twitter @DB_Info in real time.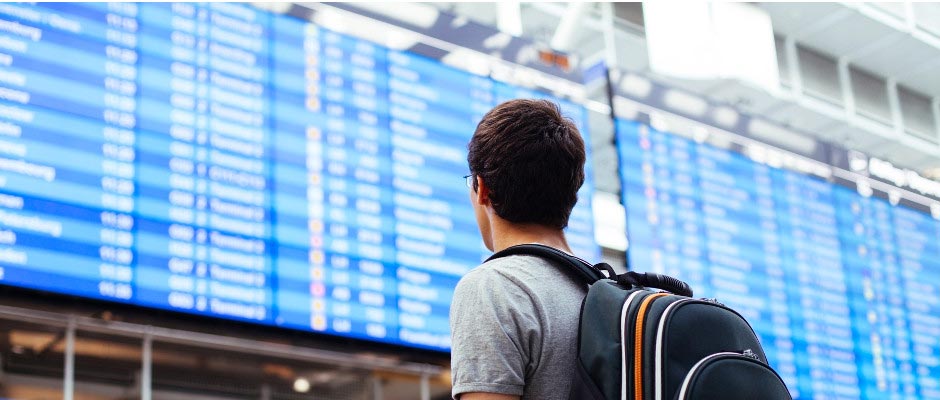 Train Timetable Information for Delays and Strikes
Strikes by trade unions are usually announced at the train station. In the event of a strike, DB will publish a new schedule, which can be viewed online. This new schedule also tells you which trains and routes are affected and what options travelers have regarding cancellation. Passengers will also be kept up to date regarding strikes and cancellations online as well as at the train station.
In the case of delays, the passengers will be informed directly at the train station, but you can also get the live information on your train online - the delay information is updated on the Deutsche Bahn website in real time. Deutsche Bahn also offers the option for passengers to receive an alert for train delays and cancellations on their smartphone.
Where can I find the new train timetable?
Deutsche Bahn replacement timetables can be found online, usually on the DB homepage. If a different schedule should be used it will be mentioned prominently there. Information on changes in the timetable due to construction sites can be found on Twitter or on the DB website under the "News" header.
Deutsche Bahn Train Schedules for Special Tickets
Deutsche Bahn has a huge range of special tickets and discount cards including special price tickets, flex price tickets with a rail card, cross-country tickets, country tickets, and weekend tickets. You can find out which trains are available for which tickets, under the terms and conditions of each ticket set. The train timetables of the regional trains are generally valid for weekend tickets as well as the cross-country ticket between different regions of Germany. Travelers can find out directly in the DB timetable information or when booking which train routes are eligible for savings rates. Usually, the earlier you book your DB train ticket, the higher the chance of receiving a savings rate price.
Timetable Information throughout Europe
For train travel all over Europe, there are other railway providers in addition to Deutsche Bahn. Find with us information about international train companies for your individual train journey and the comprehensive timetable information for trains in Italy, France, Spain, and the Netherlands. GoEuro offers you an international timetable information for train operators like Thalys, Trenitalia, Renfe or SNCF - mobile and from anywhere.
&nbsp
Deutsche Bahn FAQs
When does Deutsche Bahn require a seat reservation?

A seat reservation is recommended for traveling during peak times when a lot of commuters and business customers are traveling. Seat reservations are included in all Deutsche Bahn first class train tickets. Seats can be can be reserved on Deutsche Bahn trains using the GoEuro App.

When does it make sense to travel in 1st class? Is it worthwhile if I have to work while traveling?

Traveling long-distance in DB's first class provides a completely different, more relaxed atmosphere, with a higher level of comfort and service. If you have to work while traveling on the train, a first class ticket is definitely worth the higher price.

When do I have to reserve a space for my bicycle?

On long-distance train trips, a reservation is required for bicycles, which costs an additional €9. More information can be found on bahn.de.

Deutsche Bahn's food– How is the food on a Deutsche Bahn train?

Deutsche Bahn offers food in both the Bordbistro and Bordrestaurant on-board. The menu is varied from Chilli con Carne, to roast pork with dumplings, to a variety of salads.

How long are Deutsche Bahn's transfers? If I miss my connection will my ticket carry over to the next train?

Depending on the train station, Deutsche Bahn transfer time usually lasts between 4-10 minutes depending on the internal negotiations between individual trains and railway companies. If a Deutsche Bahn train is at least 20 minutes late at the train station, it is possible to use all other trains to reach your destination station.

Which Deutsche Bahn trains have WiFi and how good is the reception?

ICE Trains: Deutsche Bahn's ICE trains have free WiFi in both first and second class.

What assistence does Deutsche Bahn offer for mobility-impaired passengers?

Deutsche Bahn offers various assistance to passengers with reduced mobility. In order to make a barrier-free journey possible without complications, one should at least one day before the trip the offers avail.




Mobility service center: Here disabled persons can book the required service in advance. This works both online and under the telephone number 0180 6512512
Porters: Train and station personnel help you get started with the trains. Ramps and other devices are available for this purpose.
Seating: Restricted passengers have extra seats near the train doors. These can be booked in advance as well as all other places.
Traveling companions and Seeing-Eye Dogs: Wheelchairs are always carried on-board. Accompanying persons receive free seat reservations.
Services at Train Stations: The larger railway stations of Deutsche Bahn are equipped with various auxiliary functions. Many of them are equipped with elevators. In addition, acoustic signals and announcements facilitate orientation.
Save money with Deutsche Bahn discounts while discovering Germany
GoEuro and Deutsche Bahn are committed to helping you find the best price for train tickets when traveling through Germany. In addition to numerous savings, there are also discount tickets for frequent travelers, such as the DB annual ticket, the DB monthly ticket with subscription, the DB weekly ticket, the BahnCard (25, 50, and 100), and regional public transport offers. Ticket machines and ticket counters also can provide information about discount fares. Travelers without internet can also call the service number +49 0180 6 99 66 33 to book and to obtain information on schedules and train fares, and learn more about the services on Deutsche Bahn trains. Travelers can also call +49 0180 6 10 11 11 with questions about online ticket booking which are answered around the clock.

The trains of the railway run nationwide and internationally on numerous routes. Some of the most important ICE train routes include Berlin to Hamburg, Berlin to Cologne, Hamburg to Stuttgart, and Munich to Berlin. Deutsche Bahn also operates a large network of regional trains. There are also Deutsche Bahn train routes to neighboring countries. Long-distance trains travel to Paris, Vienna, Amsterdam, Zurich, Prague and Copenhagen. With GoEuro, it is particularly easy to find these international routes and compare prices. Frequently Deutsche Bahn operates in other countries of Europe in coordination with foreign railway companies, in order to make travelers particularly pleasant to travel.
Popular Deutsche Bahn Train Destinations
Popular Destinations in Germany
Popular Destinations in Europe
Can't get Enough of Travelling by Train?
We've sent you a confirmation email.
Please click the link inside to complete the process.