Trains in Spain
Schedules, Tickets and Provider Information
Best Price
Real time comparison
Easy Booking
Direct access to over 600 train, bus and flight partners
Customer Satisfaction
More than 20 million users from over 120 countries
Trains in Spain
General information about Spanish Rail
Traveling in Spain by train is one of the best ways to experience the beauty and variety of the Spanish landscape. Spanish rail infrastructure has expanded rapidly, with high-speed AVE trains linking major cities in Spain at velocities of up to 186 mph. Renfe, Spain's national rail company, offers numerous high-speed train routes that connect most parts of the Iberian Peninsula by rail. From popular destinations and train routes to information about train companies and how to buy cheap train tickets, this page provides an overview of everything you need to know about trains in Spain. Alternatively, if you are planning on taking multiple train trips you can choose to purchase a Eurail pass for train travel in Spain.
Train Companies and Train Types in Spain
Information about Spanish Rail Providers
Spain's national rail company, Renfe, operates nearly all train routes in Spain. While Renfe's high-speed trains, known as AVE services in Spain, offer routes between major cities, most of the rail network is composed of regional and intercity trains which operate at lower speeds.
| | |
| --- | --- |
| | Renfe Operadora is Spain's national train company. There are various types of trains in operation in Spain, though the rail network is most typically made up of regional and intercity trains. Media Distancia trains link regional destinations with the high-speed train routes, while Cercanias (suburban trains) operate in and around the country's major cities such as Barcelona and Valencia. Renfe trains also serve international destinations in Portugal and France. |
| | Renfe AVE are high-speed trains most commonly used for long-distance routes between major cities in Spain. Renfe AVE trains travel up to 350 km/h and connect Madrid with Seville, Barcelona, Valencia, Toledo, Cordoba, and Malaga. Renfe's AVE train from Madrid to Barcelona is the most popular high-speed train route in Spain. |
Facilities & Services for Major Train Companies
Many companies operate modern fleets with comfortable, reclining seats, wifi and air-conditioning. Compare the services available.
Popular Train Routes in Spain
Most cities in Spain are linked by rail. The most popular train routes in Spain usually involve largest and most visited cities in Spain like Madrid, Seville, and Barcelona. These destinations are connected by high-speed AVE trains. Renfe trains also travel internationally to Paris and Lisbon and other major cities in France and Portugal. Regional trains are also quite popular, especially those that pass through scenic parts of the country like Andalusia and Catalonia.
Cheapest Trains to Madrid
---
Cheapest Trains to Barcelona
---
Cheapest Trains to Valencia
---
Cheap Trains to Seville
---
Cheapest Trains to Malaga
Cheap Trains to Bilbao
More Information about Trains in Spain
How to Find Cheap Train Tickets
Advantages of Booking with GoEuro
Discount cards: the book GoEuro, you can select the main discount cards Renfe and other companies, saving time and money.
The most convenient option: Sometimes the train is not the best way to get to your destination, or you have to combine this with other means of transport. GoEuro shows you, besides all trains , all buses and flights options so you can choose which is the most convenient and inexpensive.
Traveling in Europe: With GoEuro you can book your airline tickets, train or bus to travel around Spain, but also throughout Europe. No need to go to the websites of foreign suppliers such as Thalys, SNCF, Eurostar and Trenitalia to travel in Italy, France, England or the Netherlands. In GoEuro you can book in your language and your currency.
How to buy Renfe train tickets with GoEuro
Our ticketing process is fast, simple, and easily accessible:
Once you search and find the train you want to take, click on the "Book" button and purchase your tickets through GoEuro.
Once you make a purchase, we'll send you a confirmation email that includes all the necessary information for your trip.
You can check Renfe's terms and conditions before you pay for the train ticket.
How to find discounts on Spanish train tickets
Book train tickets as far ahead of time as possible.
Be flexible on your travel times and dates. Trains during peak times are usually more expensive than night trains. This also applies to departure dates. A train that departs on Friday afternoon will usually be more expensive than one that departs in the middle of the week. Traveling on specific dates like Christmas and Easter are also usually more expensive.
Take advantage of Renfe's various discounts for youths, seniors, and those traveling with children.
Group Tickets: If you are traveling in a group of 3 or 4 people, Renfe has a discount ticket called 4 Mesa where each ticket is 40% off the regular price.
Renfe Discount Cards
In addition to Renfe's special offers and group discounts, Renfe also offers discount cards for all train types including high-speed AVE trains. If you are taking a train for your daily commute, taking a high-speed AVE train for a weekend getaway, under 26 or over 60 years old- there is a Renfe discount card for you.
Gold Card: Renfe's Gold Card (Tarjeta Dorada) is a discount card available for passengers 60+ years of age or passengers with a disability. Renfe's Gold Card provides discounts on all train types and classes.
Train Stations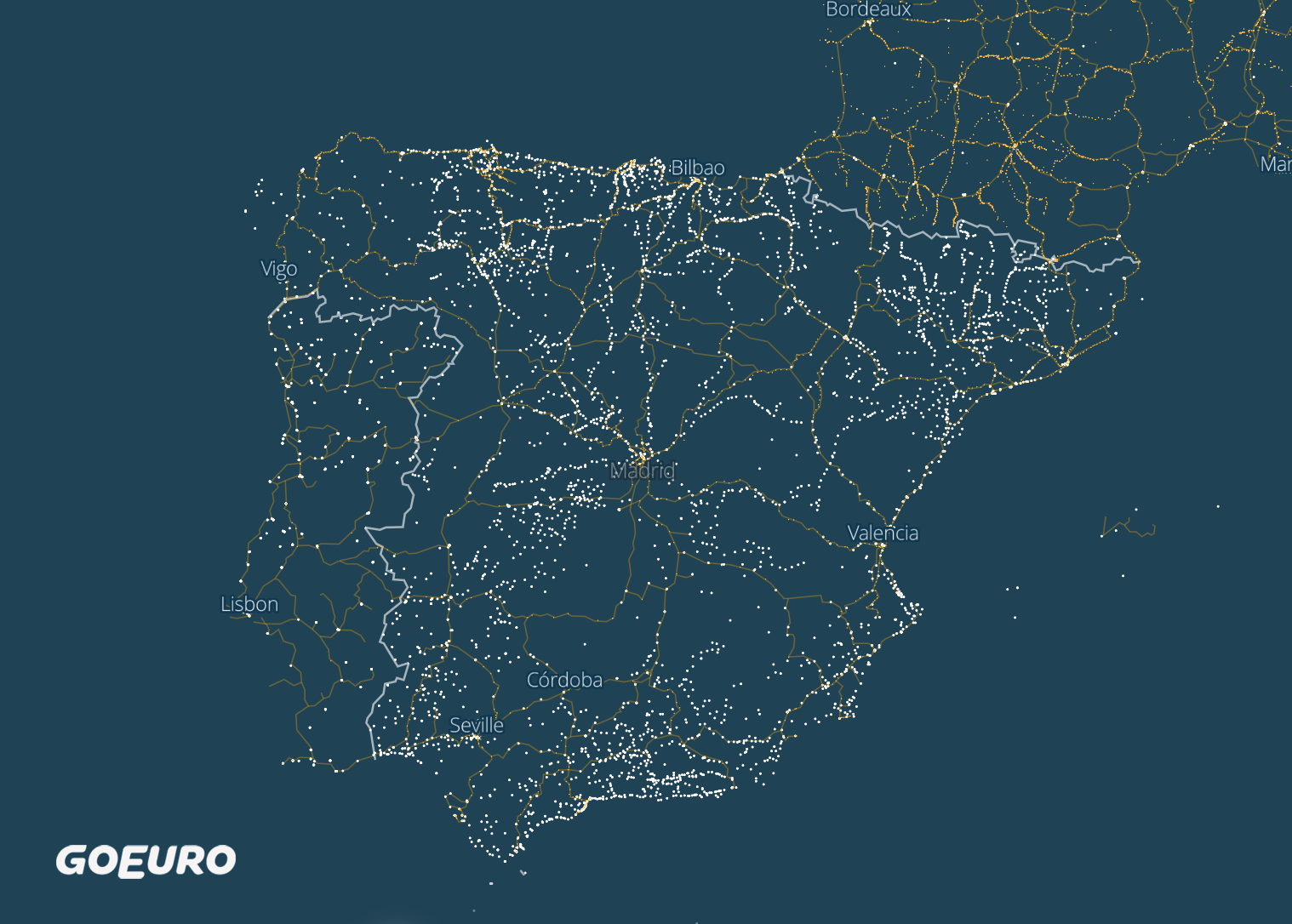 Can't get Enough of Travelling by Train?
We've sent you a confirmation email.
Please click the link inside to complete the process.