Travel to
Amsterdam

: Cheap trains, buses and flights
Best Price
Real time comparison
Easy Booking
Direct access to over 600 train, bus and flight partners
Customer Satisfaction
More than 20 million users from over 120 countries
About Amsterdam
Travelers in the Netherlands can experience Amsterdam's 17th-century architecture and houseboats floating along numerous canals as they use one of the ubiquitous bike paths to travel through the Dutch capital. Art lovers will delight in the Rijksmuseum and Vincent van Gogh Museum, while a year round party scene will be sure to fascinate those looking for a good time. Travelers looking to escape the business of London and Paris will be delighted to experience Amsterdam's relaxed and accessible atmosphere!
Quick Guide to Amsterdam
| | | |
| --- | --- | --- |
| | Must Know | Cycling is the most popular way to travel around Amsterdam. The city is quite flat and filled with over 400 kilometers of bike paths. Consider renting a bike while you're in Amsterdam to travel like a local! |
| | Must See | For those interested in Amsterdam's history and culture, the Anne Frank House and Van Gogh Museum cannot be missed. Those feeling more adventurous should visit the oldest area in Amsterdam - the world famous Red Light District. |
| | Must Do | Visit one of Amsterdam's world famous coffee shops or take a cruise in a glass-roofed boat on one of the city's the 160+ Golden Age canals. |
| | Must Eat | Tuck into the nation's favourite treat, Stroopwafels! |
| | Did You Know | There are a total of 165 canals in Amsterdam. |
Top Experiences in Amsterdan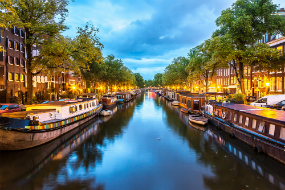 A Twilight Boat Ride on the Canal
There are many benefits to taking a trip on Amsterdam's famous canals in the evening, the first being that they tend to be less busy. Secondly, sailing through the romantic canals of Amsterdam under the moonlight is a much more beautiful experience than whizzing through the city at rush hour.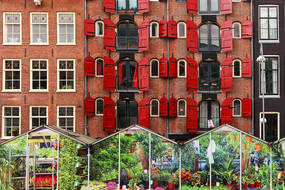 Flower Market
Have you ever dreamt of seeing tulips in every color? Well you're in luck. Meandering through Amsterdam's famous Bloemenmarkt (flower market) is a visually spectacular experience. Indulge in the sights and sounds of this bustling part of town, flowers in one hand, a stroopwafel in the other.
Van Gogh Museum
Post-Impressionism lovers rejoice! The Van Gogh Museum is stocked full of the painter's most well-known pieces including 'The Potato-Eaters', 'Sunflowers' and 'The Bedroom'. This collection also boasts pieces by Gauguin, Monet and Degas, perfect for a rainy-day in the capital of the Netherlands!
Important Stations and Airports for this Journey
Everything you need to know about Amsterdam-Schiphol Airport
Power Outlet

Wifi

Food Service

WC
Where is the airport and what is the best way to get there?
The Schiphol Sternet regional bus service connects the airport to various cities in the surrounding region in 30 minutes or less. The Fyra express train connects the airport to Amsterdam central station in 15 minutes – the fastest option.
Everything you need to know about Amsterdam Centraal train station
Power Outlet
Wifi
Food Service
WC
* Information may be outdated (testing value)
Where is the train station and what is the best way to get there?
This station is within walking distance of the city centre and is connected to other parts of the city by public transport.
Metro lines 51, 52, 53, 54
Bus lines 18, 21, 22, 32, 33, 34, 35, 42, 43
Tram lines 1, 2, 4, 5, 9, 13, 16, 17, 24, 26
How would you like to travel to Amsterdam
---
Arriving in Amsterdam
| | | |
| --- | --- | --- |
| | Train | Amsterdam Centraal train station is centrally located, so it is easy to walk to many of the major attractions. |
| | Bus | Alternatively, the Amsterdam Airport Express (Bus #197) departs every 15 minutes from platform B9 at Schiphol plaza. The bus also costs 5€ takes approximately 30 minutes to reach the city center. Both the bus and train are far cheaper that taking a taxi from the airport, which charges 45€ to reach the city center. |
| | Flight | Amsterdam Airport Schiphol (AMS) is a major intercontinental flight hub and the home of KLM, the national flag-carrying airline of the Netherlands. Travelers can reach Amsterdam Centraal train station in the city center by taking a 15 minute train trip from Schiphol airport for 5€. |
Traveling around Amsterdam
Given Amsterdam's relatively small size, the most popular way to travel is by bike. Everyday during rush hour (8-9 a.m. and 5-6 p.m.), thousands of cyclists take to the streets.
Amsterdam's 400+ kilometers of bike paths make cycling in the city extremely efficient and safe.
It costs 10€ to register with OV-fiets, Amsterdam's official bike rental agency, after which it costs approximately 3.15€ per day. Alternative bike rental agencies cost approximately 10€ per day.
Most areas in Amsterdam are well connected by train, metro, tram, bus or ferry. Most residents use a reloadable OV chipkaart to use these different types of public transport. Day and Amsterdam & Region passes are quite convenient for visitors to the city.
An "Amsterdam Travel Ticket" includes train fare to and from Schiphol Airport and 2 days of unlimited public transport. Similarly, "I Am Amsterdam" city cards can be purchased for 24, 48 or 72 hours and include unlimited use of public transport as well as free access to various attractions in the city.
A daily transport pass in Amsterdam costs around 7.40€ depending on the city zones covered by the pass. Apart from 12 routes which run to major stations, most transport lines in Amsterdam stop running after midnight. Night bus tickets cost approximately 4.50€.
Driving is not recommended in Amsterdam due to the abundant traffic and narrow streets. There is also no free parking in Amsterdam, with parking typically costing between 25-55€ per day.
Need more tips for your next trip?
We've sent you a confirmation email.
Please click the link inside to complete the process.