European Destinations - Summer Edition
Summer vacation is filled with possibility and everyone's after something a little different. For those looking to combine a Europe trip with time at the beach, GoEuro looked at more than 1000 beaches to find the best European destinations to fit every summer vacation. Whether you're planning a fun-packed holiday with friends, want to explore a sun-drenched corner of Europe with family, or are simply looking for the closest beach to the airport, we've got you covered. With the perfect combination of city buzz and beachside bliss, our summer European destination list checks all the right boxes.
For our ranking of the best European destinations, see our top 100 list for 2017 here.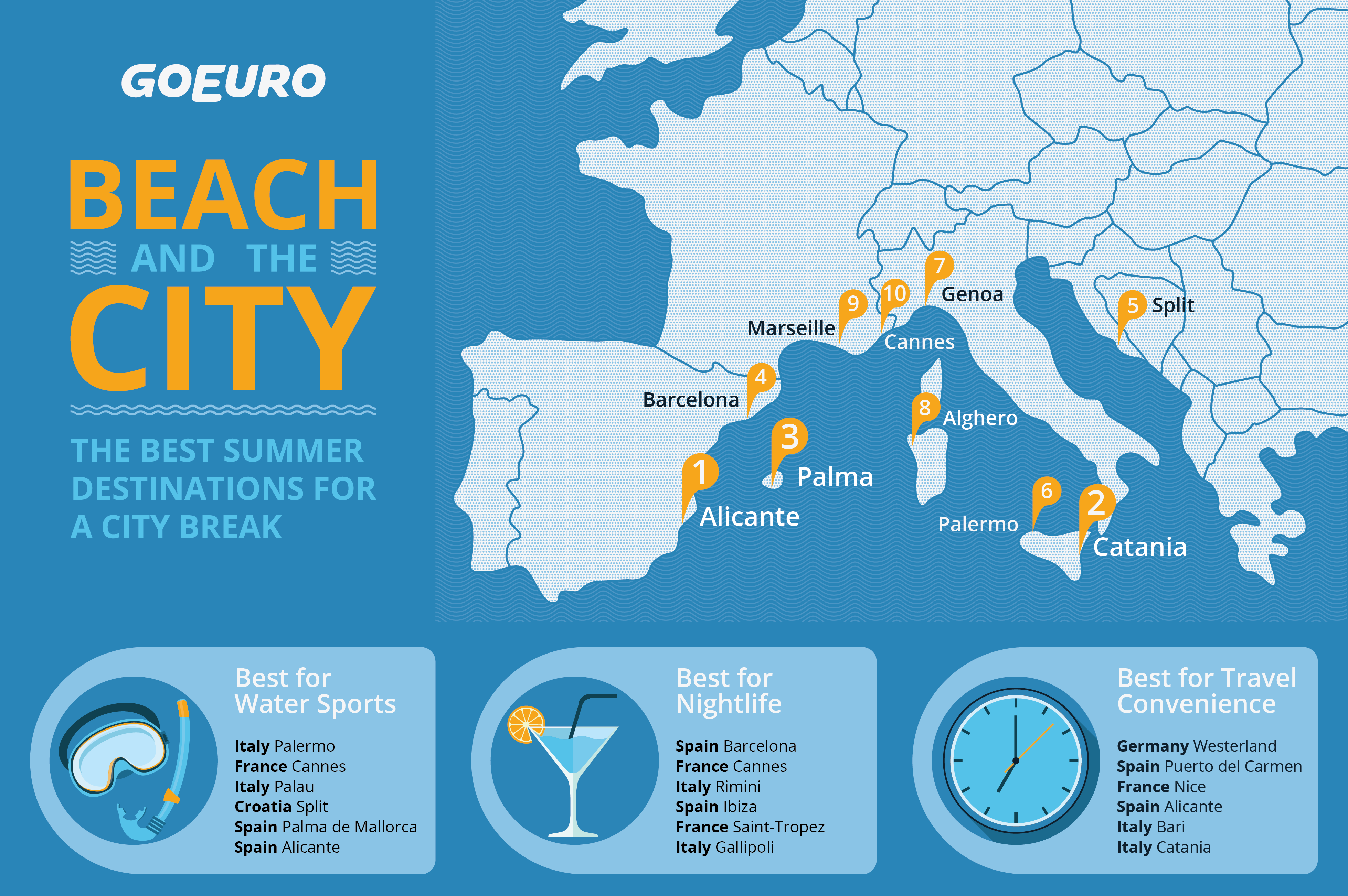 All Rights Reserved. GoEuro must be credited when sharing the infographic.
The Top 100 European Beach Destinations
Find the best city beach destination for you by customizing our table below. You can click on each category to sort the ranking according to your personal preferences and start planning your European beach holiday right away.
The total score per city is based on a total of 100 points.
Take a look at the
sources
below.
The Best European Beach Destination: Alicante, Spain
With a massive 98 points out of 100, Alicante has been declared the best European beach destination. Alicante scores high when it comes to nightlife, accessibility, and water activities— this Spanish haven really has it all. Travelers can spend the morning immersed in Mediterranean culture, followed by an afternoon basking in the sun, before dancing the night away in the Alicante's renowned clubs.
Beautifully situated between the Sierra Grossa mountains and the stunning Tossal de Manises ruins, La Albufereta beach stands out with its white sand, palm trees and mountain backdrop. A favourite holiday spot for locals, this beach provides a taste of authentic Spanish culture.
Easily accessible by tram, Alicante's most famous beach boasts a 7km open stretch of fine, golden sand. There's no shortage of entertainment with plenty of seafront eateries and bars, as well as beach volleyball and windsurfing options. What's more, it's only a 24 minute drive from the airport.
In the heart of the city and renowned for its palm tree broadwalk, Postiguet beach offers the ultimate European beach holiday. With tranquil waters consistently awarded the Blue Flag for cleanliness, this beach is highly accessible and attracts people from all over the globe.
Most Convenient European Beach Destination: Westerland, Germany
Can you imagine being on the beach just 14 minutes after leaving the airport? Well this is a dreamy reality if you head to Westerland, Germany. For parents longing for a smooth family holiday or students and backpackers with limited time, accessible beaches are a godsend. That's why we researched just how quickly and easily Europe's beaches can be reached by public transport, making sure you waste no time getting into the sea.
| # | City | Airport to City | City to Beach |
| --- | --- | --- | --- |
| 1 | Westerland (Germany) | 4 minutes | 10 minutes |
| 2 | Puerto del Carmen (Spain) | 15 minutes | 6 minutes |
| 3 | Nice (France) | 11 minutes | 12 minutes |
| 4 | Alicante (Spain) | 13 minutes | 11 minutes |
| 5 | Bari (Italy) | 17 minutes | 7 minutes |
| 6 | Catania (Italy) | 20 minutes | 5 minutes |
| 7 | Senigallia (Italy) | 23 minutes | 5 minutes |
| 8 | Bastia (France) | 9 minutes | 18 minutes |
| 9 | Santa Cruz de Tenerife (Spain) | 13 minutes | 16 minutes |
| 10 | Brighton (UK) | 22 minutes | 8 minutes |
European Beach Destination with the Best Water Sports: Palermo, Italy
From scuba diving to riding the waves, GoEuro investigated the various water sports available in all of Europe's beach cities. Appealing both to those on family holidays and adventure-seeking travelers, each beach was given a score based on the available water activities. Palermo makes the biggest splash when it comes to beach fun in Europe.
You can scroll through the top 6 European destinations with beaches for water sports by clicking the arrow.
European Beach Destination with the Best Nightlife: Barcelona, Spain
An ice-cold cocktail on the beach is a must for many groups embarking on their summer jaunts, when local nightlife is a pretty vital ingredient to holiday fun. By looking into the various forms of evening entertainment available and local beer prices, GoEuro was able to list Europe's liveliest beach cities and Barcelona, Spain took the crown for nocturnal hedonism.
Get inspired for your next fun-filled beach holiday by scrolling through our top six European destinations with beaches for nightlife below.
Best Upcoming Events in Popular European Destinations
Whether you want to dance the night away at Budapest's famous Sziget Festival or support your favorite cyclist in the Tour de France, we've chosen the best upcoming summer events across Europe.
Scroll through our events calendar slideshow below to find your ideal European destination this summer.

Sources
The criteria used to weigh and classify beaches in each country are as follows in order of importance:
Beach Points: The total score is a combination of all the factors below. Each beach had the possibility of scoring 100 points out of 5 categories in which 20 points could be awarded.
Beach Type: Based upon the highest rated beach on TripAdvisor for each city, combined with the number of beaches in the city and the type of beach— sand or stone. Beach type data was taken from TripAdvisor.
Travel Convenience: Based on the amount of time between the airport and city center's main train/bus station, and then to the beach. Also, how many types of public transport are available was taken into consideration.
Temperature: Average temperature of both water and air from June until August were included in this study. Temperature data was taken from Ou-et-quand.
Water Sports: Includes the total amount and different types of water sport activities available on the beach. Water sport data was taken from TripAdvisor.
Nightlife:Based upon the number of entertainment options offered at each beach and the different types of activities available, the average price of a 0.5 liter of beer and 0.33 liter of water. Nightlife data was taken from TripAdvisor and Numbeo.
More Destinations to Discover
Popular Journeys Across Europe
We've sent you a confirmation email.
Please click the link inside to complete the process.