Cheap plane, train, and bus tickets to London
Best Price
Real time comparison
Easy Booking
Direct access to over 600 train, bus and flight partners
Customer Satisfaction
More than 20 million users from over 120 countries
Traveling to London: Transport Comparison
Average prices for traveling to London from major European cities by trains, buses or flights
FROM BERLIN
FROM AMSTERDAM
FROM BARCELONA
FROM PARIS

$

71

.80

$

35

.38

$

81

.27

$

38

.93

$

132

.75

$

171

.69

$

237

.52

$

114

.20

$

63

.38

$

71

.12

$

108

.27

$

81

.02
*These prices were taken as an average from the last 3 months
Quick Guide: Traveling to
London
*Times were taken as an average from Europe to London
&nbsp
Free things to do in London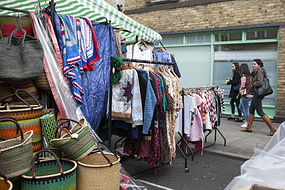 Broadway Market
Broadway Market, in London's east end, is the closest you're going to get to the traditional cockey wheeler and dealers of London! Although, hoards of hipsters have taken over and you'll find quinoa salads and chai seed puddngs along side stands that have been there every week since the 70s. It's also super close to Regents canal which is great for a stroll in the sun and people watching.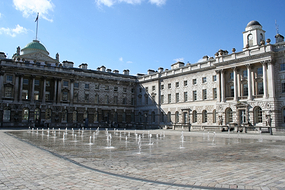 Somerset House
Built in 1775, this multi-purpose art gallery has everything from posh restaurants and out door cafes to a grand water fountain on the grounds. Aside from hosting some of the finest peices of art in the UK, the Somerset house is also the venue for numerous seasonal events all through out the year including open air cinemas in the summer and an ice rink in the winter.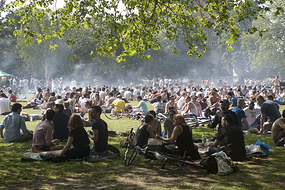 London Fields
Perhaps not London's most beautiful park, the atmosphere and surrounding areas more than conpensate. London Fields is perfect for those looking for a relaxing day of drinking and having a picnic. It's also within the vicinity of some of London's greatest traditional pubs.
Looking for something else?
Buses to London | Trains to London | Flights to London
&nbsp
About London
London is the capital of both the United Kingdom and England. It is a cosmopolitan city ranking both as one of the most popular, with the most international visitors annually in the world, as well as one of the world's wealthiest and most expensive. The metropolitan area of London is divided into 32 boroughs, with the center being Westminster. Transport for London (TfL) operates local transit which includes the famous London Underground, the oldest and one of the deepest in the world, as well as the iconic red double decker buses. There are five major airports and over 300 rail stations - including tube stations and regional rail stations. The city recently hosted the 2012 Summer Olympics, and continues to be an epicenter of culture, art, politics, and economics.
Quick Guide to London
Must Know: You shouldn't underestimate the size of London. Walking is the best way to see the sites, but take advantage of the public transport to avoid exhausting yourself.
Must See: There are many things to see in London including the Crown Jewels at the Tower of London and Big Ben at the Houses of Parliament.
Must Do: London has great food, some of the best places to experience it are the many markets throughout the city..
Did You Know: To be a 'black cab driver' one has to take an exam called 'the knowledge' which includes knowing 25,000 roads and 50,000 points of interest.
Important Stations and Airports for this Journey
Everything you need to know about London-City Airport
Power Outlet

Wifi

Food Service

WC
Everything you need to know about London Charing Cross train station
Power Outlet
Wifi
Food Service
WC
* Information may be outdated (testing value)
Everything you need to know about London Waterloo East train station
Power Outlet
Wifi
Food Service
WC
* Information may be outdated (testing value)
Where is the train station and what is the best way to get there?
This station is not located in the city centre but it can be reached by public transport.
Metro lines Bakerloo, Northern, Jubilee, Waterloo, City
Bus lines 1, 4, 26, 59, 68, 76, 77, 100, 139, 168, 171, 172, 176
How would you like to travel to London
---
How to Get to London
Flights

London Heathrow Airport is located about 22km (14 miles) west of Central London. The Heathrow Express offers the fastest connection to London Paddington. Trains leave from Heathrow terminals 5 or 1 & 3, with a connection service also available from terminal 4. The London Underground is also available from the airport, and the Piccadilly Line takes about 1 hour to get you to of from the city center. National Express also offers coaches from Heathrow Airport to London Victoria station in central London.

The Gatwick Express train offers a direct service from Gatwick Airport to London Victoria. Thameslink and Southern also run regional train services to London Bridge, London Victoria and Clapham Junction. National Express offer a bus service from the airport to London Victoria that takes around 1.5 hours.

Stanstead Airport is located 48 km (30 miles) northeast of Central London in Essex.The Stanstead Express offers the quickest journey to central London, calling at Stratford and Liverpool Street Station. National Express runs a coach service from Stansted to both Stratford and Liverpool Street Station as well.

London City Airport is the closest airport to the city center being located just 11 km (7 miles) away in the London borough of Newham. The airport is on the DLR line (Docklands Light Rail) which operates as part of the TfL network. The airport is located in Zone 3, and travelling with an Oyster card is recommended. The DLR connects onward to the London Underground as well as bus and mainline rail stations.

Train

London St Pancras International is home to Eurostar, Southeastern, East Midlands Trains, Thameslink, and the London Underground. The station is served by London Underground trains at King's Cross St. Pancras Station, which combines St Pancras with neighbouring station King's Cross. A large number of London Buses also stop outside the station or next door.

London Euston station serves as a central London hub, offering bus, coach, underground, overground and national rail services. The London Underground Circle Line, Hammersmith & City Line, Victoria Line, Metropolitan Line and both branches of the Northern Line (Charing Cross and Bank) stop at Euston station. The London Overground to Watford Junction also stops here.

Main train companies operating out of Paddington station include First Great Western, Chiltern, Heathrow Express, and Heathrow Connect. Paddington is located in Zone 1 of London, making it very central. It is connected to the London Underground on the Bakerloo Line, Hammersmith & City Line, Circle Line and the District Line. Many bus routes also pass by the station.

Bus

London Victoria Coach Station is the largest bus station in London, and was opened near Victoria Station and Buckingham Palace in 1932. The station serves long distance coach journeys (both domestic and international). Major bus providers found at the station are National Express, Eurolines, Ecolines, Ouibus, Megabus, Evan Evans, David Urquhart, Interbus Kosice, Premium Tours, and Sindbad. The coach station is adjacent to Victoria Station and Victoria Bus Station (approximately 300 meters away), providing transport connections via London Buses, National Rail, and the London Underground Victoria Line, District Line and Circle Line.
Getting Around London
London has one of the oldest, most extensive and famous public transport systems in the world. Transport for London (TfL) oversees the London Underground, London Overground, London Buses, Dockland Light Rail, and London Rail. Annually, the TfL estimates that 1.265 billion passengers travel on the London Underground alone, and around half of all bus trips in the UK take place on London transport. An essential way to get around, there are 9 zones in total, with buses, tubes, overground, DLR and national rail services connecting the entire Greater London area.
Cycling is growing in popularity in London. You will see hundreds of cyclists everyday, but it still can be dangerous due to all the traffic. A helmet and high visibility gear is always recommended.
Taxis are very common iconic part of London. The infamous black cabs can be hailed if their light on top is lit up. Black cabbies are some of the most knowledgeable when it comes to the streets of London, as they have to take a qualification exam about all the streets and routes across the capital in order to be licensed.
Walking is an essential way to explore the capital and there are many sidewalks and parks to walk through. However, always be careful when crossing busy streets as crossing lights change quickly and most cars do not give pedestrians the right of way.
Need more tips for your next trip?
We've sent you a confirmation email.
Please click the link inside to complete the process.