The GoEuro Study Abroad Guide to Europe 2018

Travel habits of study abroad students
GoEuro, the platform for booking travel in Europe, conducted a study looking into the travel habits of students studying abroad. With 5,785 students completing the survey, the top European destination was Spain with 17.6% of people surveyed opting for the Mediterranean land of tapas. We also looked specifically into the travel habits of American study abroad students and you can see the findings in our interactive infographic below (click on the countries!).
Where to travel during your time in Europe
Are you planning to travel while studying abroad in Europe? If so, check out the interactive map below with the best day trips and weekend getaways from Europe's most popular student cities. What's more, they're all cheap!
The journey prices were taken on GoEuro.com on the 7th November 2017 for a one way ticket one month in advance of the trip. The prices may be subject to change.
The prices were taken on the 21st November 2017 originally in euros and converted into the applicable currencies for each country.
Learn More about Studying Abroad
For further study abroad tips and travel advice, check out our blog posts below.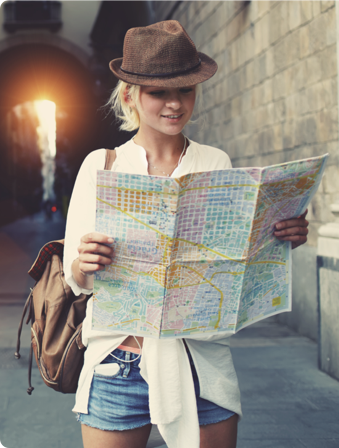 Download the GoEuro app to make travel easy while studying abroad!
From fun day trips to fancy weekend getaways, there are plenty of ways for you to make the most of your study abroad experience.

Download the GoEuro app on your smartphone and book your trips by train, bus or plane with just one click.

Discover more of Europe during your studies with our itineraries
Whether traveling by train, bus, or plane through Europe, we aim to make the experience of planning and traveling to your destination
as enjoyable as the trip itself. Find out more with our European itineraries here.
We've sent you a confirmation email.
Please click the link inside to complete the process.