The €21,000 GoEuro Scholarship Giveaway!

Congratulations to our study abroad scholarship winners!
To encourage travel around the continent, GoEuro, the platform for finding and booking trains, buses and flights awarded scholarships to the following students planning to study abroad in Europe:
| Name | University | Country | Prize |
| --- | --- | --- | --- |
| Alexandre | Universität Mannheim | Germany | Scholarship |
| Antonio | Università degli studi di Napoli Federico II | Italy | Scholarship |
| Aroldo | Universidad de Sevilla | Spain | Scholarship |
| Joe | Universidad de Alcalá | Spain | Scholarship |
| Karen | University of Kentucky | United States of America | Scholarship |
| Laura | Montana State University | United States of America | Scholarship |
| Natalie | Syracuse University | United States of America | Scholarship |
| Prokop | Univerzita Karlova | Czech Republic | Scholarship |
| Rachel | University of Sheffield | United Kingdom | Scholarship |
| Karina | Uniwersytet Medyczny | Poland | Instagram |
| Salvatore | Università degli Studi di Bari Aldo Moro | Italy | Instagram |
Apply for your GoEuro European Scholarship Today
To make travel easier for students studying abroad, GoEuro is offering 10 individual scholarships of €2,000 each. To enter, simply complete the 10 minute questionnaire below. Please ensure your university is enrolled in the table.
In order to also enter the Instagram competition, you must submit your Instagram account name in the application form. Then, post a unique video or image that represents the European country you're hoping to study in. Tag @goeuro in your post and include the hashtag #goabroad with a caption explaining why you dream of studying in that country. The 2 most inspiring videos or images will each win €500 and will be judged by EyeEm Photographer Samuel James Harries. Find us on Instagram @goeuro.
Not enrolled at an American university? Check out our European pages: United Kingdom, Spain, Germany, Italy, Czech Republic. Poland, The Netherlands, Sweden and Portugal.
How to Enter
Where to travel during your time in Europe
Are you planning to travel while studying abroad in Europe? If so, check out the interactive map below with the best day trips and weekend getaways from Europe's most popular student cities. What's more, they're all cheap!
The journey prices were taken on GoEuro.com on the 7th November 2017 for a one way ticket one month in advance of the trip. The prices may be subject to change.
The prices were taken on the 21st November 2017 originally in euros and converted into the applicable currencies for each country.
Learn More about Studying Abroad
For further study abroad tips and travel advice, check out our blog posts below.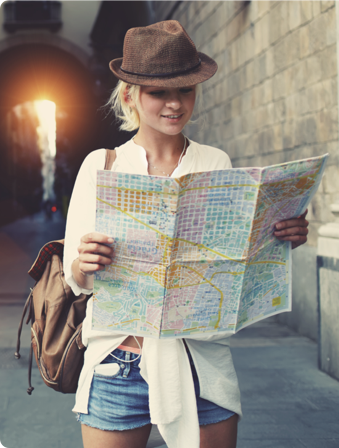 Now take a second to imagine what you could do with all that extra cash while you study!
From fun day trips to fancy weekend getaways, there are plenty of ways for you to make the most of your study abroad experience.

Our scholarships will enable you to benefit from a rich cultural agenda while you're expanding your formal education. Make the most of your time away by traveling around the continent as much as possible!
Frequently Asked Questions
GoEuro's Mission is to Make Travel Easy
Whether traveling by train, bus, or plane through Europe, we aim to make the experience of planning and traveling to your destination
as enjoyable as the trip itself. Find out more with our European itineraries here.
We've sent you a confirmation email.
Please click the link inside to complete the process.